ZERO DEFECTS IS POSSIBLE
TRENDABLE lets you take action BEFORE a bad part is made
HOW TRENDABLE HELPS YOU ELIMINATE WASTE
With one affordable, easy-to-use program, you and your team are alerted when quality is in jeopardy so you can take action before an out of spec part is made.
TRENDABLE is the only quality reporting solution for small manufacturers.
Simple and Easy
TRENDABLE creates professional, accurate quality charts and statistics in three simple steps.
TRENDABLE will automatically create SPC charts, capability histograms, Cpk and Ppk values, and more. No need to be an expert! TRENDABLE helps eliminate waste by giving your team visibility into product measurement data.
WHY TRENDABLE
Manufacturer Benefits
Professional SPC Output
Modern, clean graphs founded on solid, accurate statistics you can trust.
Keep it simple
The quality statistics you need, nothing you don't. With a simple 3-step workflow, TRENDABLE takes the guesswork out of creating meaningful SPC results.
Anytime, Anywhere
Access your SPC reports when and where you need them. Log in to TRENDABLE from your PC or mobile device.
Ad hoc analysis
Say goodbye to highly-configured, rigid legacy SPC systems. Create accurate analyses for any production data with TRENDABLE.
Don't break the bank
TRENDABLE was born in the cloud making it lightweight and affordable.
No installation
Cut out the IT middle-man. Access TRENDABLE online on your time.
The "C" in DMAIC
Ensure you get the most out of your Six Sigma projects. Monitor your processes with TRENDABLE.
Never hesitate
Get results fast in three simple steps. Be confident with TRENDABLE's accurate, professional reports.
Stop putting out fires
TRENDABLE will capture your long-term historical trends which helps visualize drift so you can stay on top of emerging trends before they become tomorrow's problem.
Ready to get started?
Join the thousands of manufacturers building better quality products and better client relationships.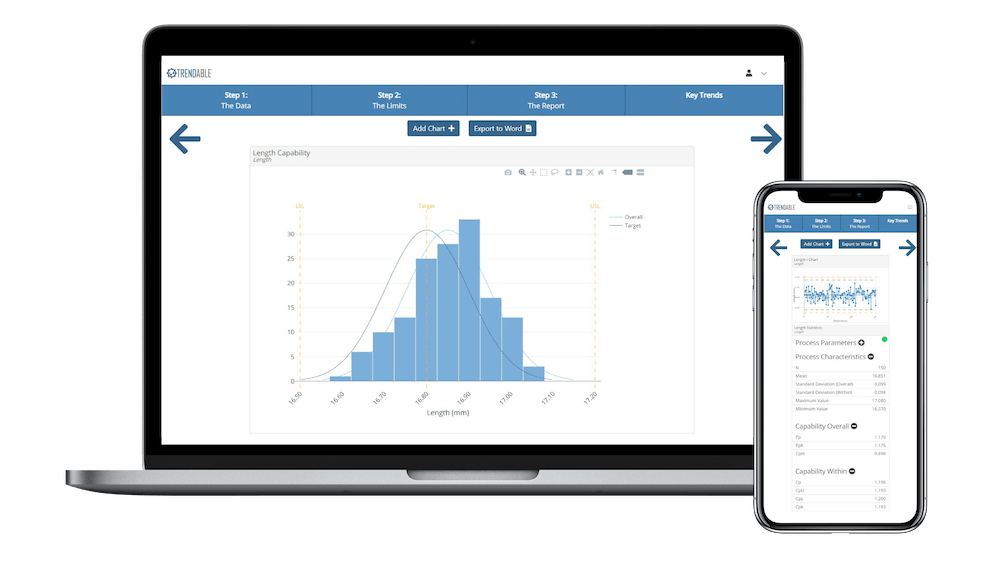 Achieve your quality goals
TRENDABLE generates professional, stream-lined graphics to showcase your commitment to manufacturing quality "in spec" product.
Trust your processes
Most engineers are not statisticians. TRENDABLE removes the guesswork by leveraging industry-standard best practices for accurate, straightforward results.
Empower operators
TRENDABLE is accessible on any device from anywhere on your shop floor. Give your operators visibility and allow them to contribute to product quality.
Save the bottom line by improving product quality
"15% of a manufacturer's revenue is spent addressing issues of poor quality"

~American Society for Quality
Improve your KPI within 6 months or it's free.