Step One
Log in!
TRENDABLE is software online so there is nothing to install and no extra equipment to buy. Just log in on your desktop, laptop, iPad, or mobile phone and start building a more perfect product.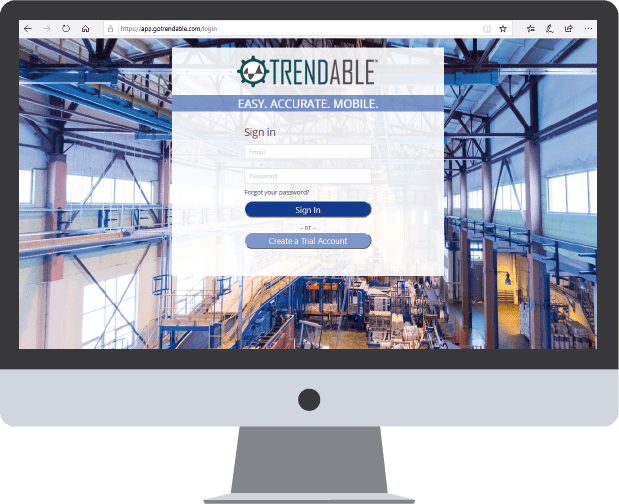 Step Two
Capture Measurements
Use TRENDABLE to collect measurements with fine tolerances like:
XYZ Dimensions
Concentration
Viscosity
Yield
Or visual inspection defects like:
Or simple Go/No-go situations like: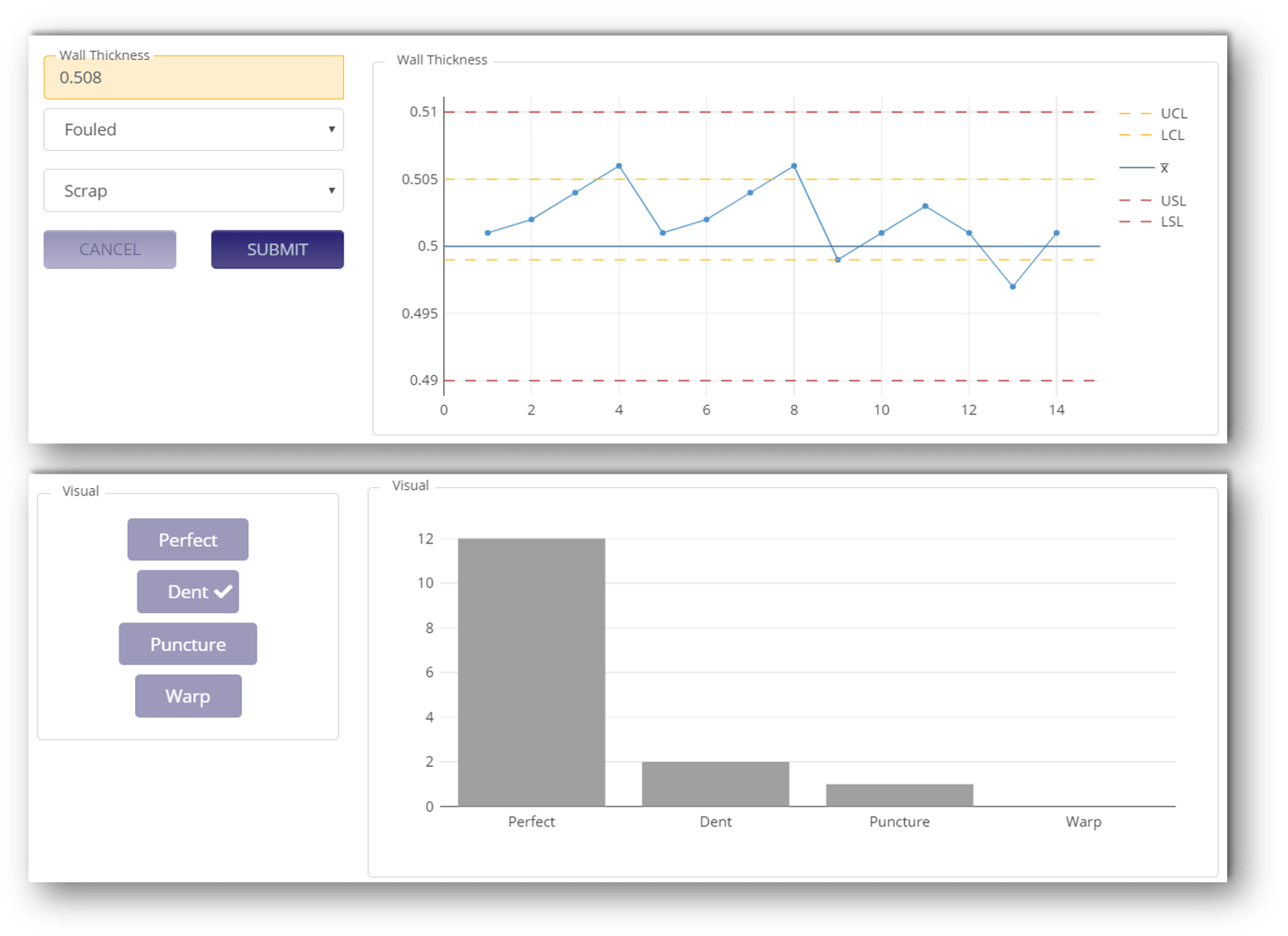 Step Three
Take Corrective Action
With TRENDABLE, line operators get live feedback with every observation. Measurements are plotted in real-time with instant feedback.
And, every team member participates in quality with TRENDABLE's drop-down CAPA feature.

Step Four
Analyze the Aggregate
Have capability statistics at the tip of your fingers with TRENDABLE's simple, professional SPC reports. Impress new customers and get a handle on operations without breaking the bank.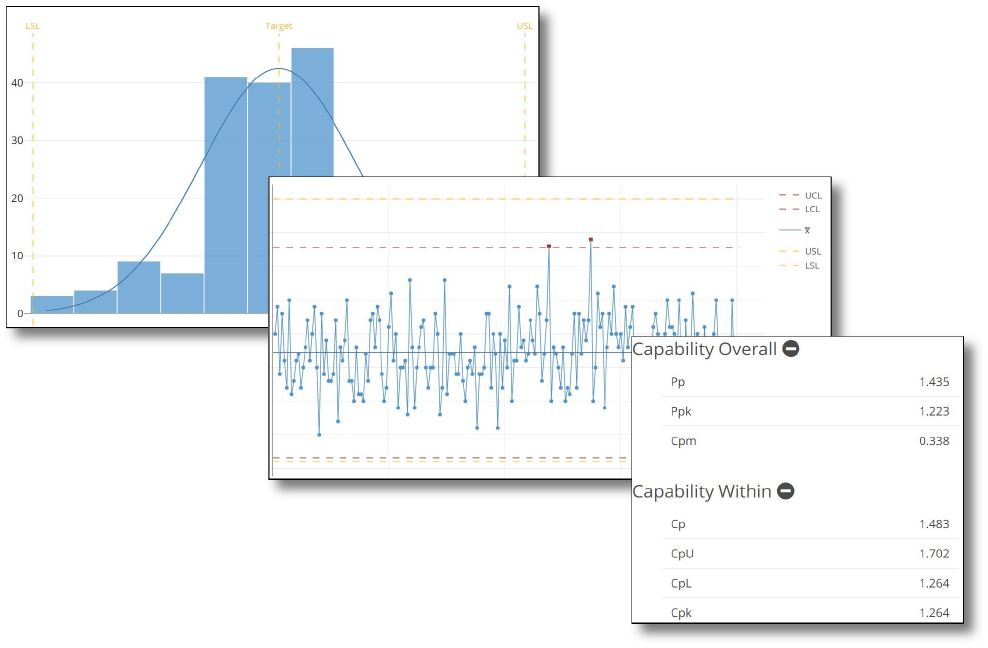 Improve!
No other software helps you keep track of your manufacturing process over the long term like TRENDABLE. Statistics on every report is captured and displayed in an easy to understand trend report. Seasonality, humidity and temperature swings, and other unknown factors may be influencing your product quality. Trust TRENDABLE to bring production variables into focus.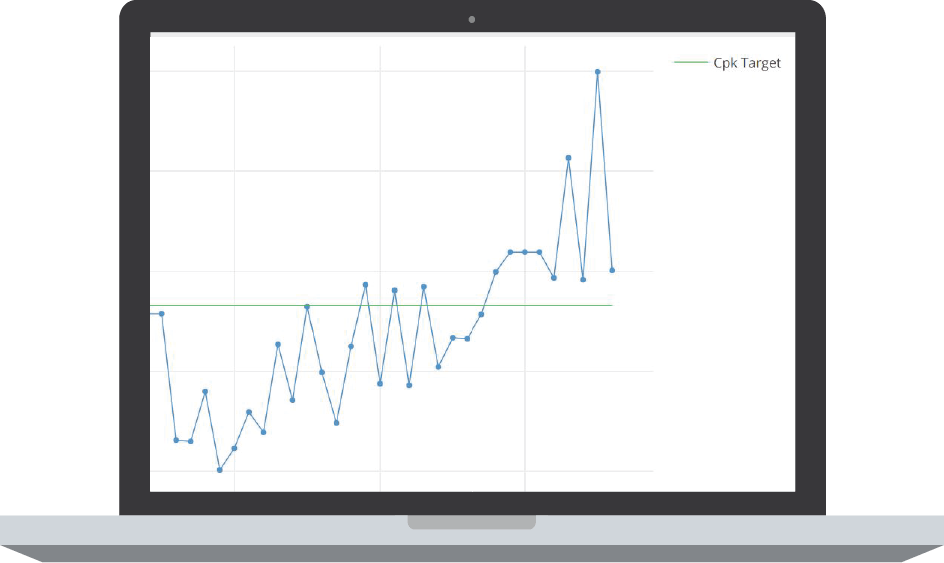 WHY TRENDABLE
Manufacturer Benefits
Professional SPC Output
Modern, clean graphs founded on solid, accurate statistics you can trust.
Keep it simple
The quality statistics you need, nothing you don't. With a simple 3-step workflow, TRENDABLE takes the guesswork out of creating meaningful SPC results.
Anytime, Anywhere
Access your SPC reports when and where you need them. Log in to TRENDABLE from your PC or mobile device.
Ad hoc analysis
Say goodbye to highly-configured, rigid legacy SPC systems. Create accurate analyses for any production data with TRENDABLE.
Don't break the bank
TRENDABLE was born in the cloud making it lightweight and affordable.
No installation
Cut out the IT middle-man. Access TRENDABLE online on your time.
The "C" in DMAIC
Ensure you get the most out of your Six Sigma projects. Monitor your processes with TRENDABLE.
Never hesitate
Get results fast in three simple steps. Be confident with TRENDABLE's accurate, professional reports.
Stop putting out fires
TRENDABLE will capture your long-term historical trends which helps visualize drift so you can stay on top of emerging trends before they become tomorrow's problem.